A Little Extra Love Animals
Animals who needs a little extra love before being adopted.
Meet our current A Little Extra Love Animals who need additional medical attention while in our care.
Commonly, animals enter our rescue due to underlying medical issues that needed special attention. We place them in an appropriate foster home that is able to provide daily medical care, along with being able to transport them back and forth to appointments with us!
Some of the animals have life long medical issues that are more intense, or have a high financial burden and so are now "FurEver Fosters". This means that they will be with their foster family and in our medical care for the rest of their lives. Pawsitive Hope continues to provide the medical costs to care for the animal, while they stay in a permanent loving foster home.
Other animals are placed in a foster home receiving medical care until they are healthy enough to be adopted.
What it is:
An animal, who needs a foster, who has medical care needs that should diminish or become manageable over time

Our rescue will cover/continue the medical care & costs for the animal during the fostering period

Once cleared to be officially adopted will need to move forward for care with their personal vet for the animal
Current Medical Cases: updated 06/01/23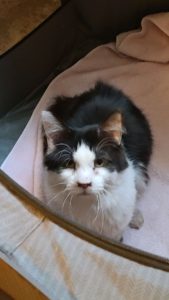 Snuffelupagus (aka Snuff)
Snuff is the sweetest boy!  Says his foster, he is constantly kneading-"making biscuits"-and purring, and is very affectionate.  He loves to rub his head into you, and has a sweet little meow.  Snuff is being treated for all of his ailments, and will be up for adoption just as soon as he's ready.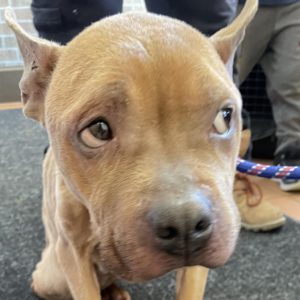 Pip
Around 5 years old, senior female Pit Bull terrier, about 27 pounds (she should weigh at least twice this amount)
Pip was another transfer from the dog warden.  This poor girl was riddled with a variety of different intestinal parasites and coccidia, and suffered from severe neglect.
Pip is being introduced very gradually to food as she went without for too long.
She has skin lesions, likely from urine scald from being left in a cage with urine and feces.
She has lost muscle in her back legs and limps, and her teeth are worn down, suspected from biting at her cage.
Pip drinks a ton of water, and has a licking issue, the nature of which is not yet clear.
This little girl is still struggling with pyoderma and is receiving an antibiotic and a couple of other medications to treat it.
This poor mistreated girl is in a loving foster home and is receiving the best care for her wounds and medication to get rid of the parasites. She is doing wonderfully, feeling safe in her crate and eats 4 times a day now! She is putting on weight steadily, thank goodness, and we continue to monitor her progress. Pip is improving slowly, but surely and deserves better from her future family and we aim to help her find it!
Penny Lane (aka Little Miss Thang)
5 months old, small female mixed-breed puppy, about 22 pounds currently.
Transferred from Save a Mom Pregnant Dog Rescue
Penny was surrendered by her owners who had her since birth.  They stated she never used her back legs like her littermates.
After a visit with a neurologist and some other minor health struggles, it seems very likely that Penny was either born with a neurological abnormality or suffered an infection at some point that led to her condition.
Penny has met with a veterinary physical therapist who is helping expand her range of motion and use of her back legs.
In early May, Penny had to have an episiotomy and tail amputation, both to decrease chance of infection and irritation to her skin due to incontinence and she was spayed. She is doing well in recovery.
As of mid-May, Penny's bloodwork shows she may have some infection going on, so she is on antibiotics for a while to see this through.
Penny Lane is in a wonderful foster home for the time being, where she lives with other dogs, and plays hard.  "She LOVES stuffed toys!! She loves playing with the other dogs and is faster than all of them!"  Her foster says she sneaks away for naps and is very vocal at meal time, and has never let her limitations slow her down!  Our hope is that Penny Lane will be adoptable very, very soon, but she will need significant ongoing medical care for the rest of her life.  We'll be searching for the best furever home for our girl!
Lucille (aka Snaggles)--Medically Informed Foster To Adopt
5 months old, young female Pit Bull terrier puppy, about 15 pounds currently
Transferred from the Dog Warden, Lucille was surrendered with all of her litter mates with classic signs of an immune disease called "Puppy Strangles."
Lucille has undergone steroid treatment and antibiotics to alleviate both the disease and her bodily reactions to it.
After a few weeks, if her condition continues to clear up will, she will be spayed and ready for adoption.
Lucille is with a foster family for now.  Her foster parent says, "She plays well with her foster sisters, playing and cuddling. Loves her toys and hogs them all. Loves to be around her person, sleeps all night in her crate and no poop or pee. Working on outside pottying. She loves to cuddle and nap with me. Loves giving kisses."  This sweet girl is starting to be weaned off of her steroid medication and her bloodwork is dramatically improving.  Lucille is continuing to heal well, and is almost ready for vaccines and a normal puppy life!
We are taking applications for Lucille on a Medically Informed Foster to Adopt basis. This means that she is at what we hope is the end of her need for medical care, that all of her issues are almost resolved, and that she will be on a permanent upswing, but we are being cautiously optimistic.  Everything looks good and we want to make sure it stays good!!  She is such a sweet girl, ready to give all her love, so please consider her if you're looking for a new furry friend.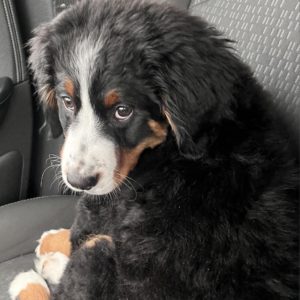 Beau
About 6 months old, male Bernese Mountain Dog puppy, about 30 pounds currently
Beau came to us through an owner surrender through a veterinary hospital.  We believe he has an autoimmune disease that was triggered by his regular puppy vaccinations.
Beau has dramatically improved since he came to us and we are continuing to monitor him closely.
In late April, Beau began urinating blood.  He was very lethargic and painful in his hind end and back legs.  He did receive medication to treat his symptoms and we are watching him closely.
Beau had an episode recently where he refused to eat.  His foster monitored him closely and did eventually get him to eat, but his lethargy took a little while to clear up.
Beau is a wonderful, happy boy, who we believe will be adoptable very soon to the right family. We are hoping to send him to a trainer very soon to help him learn commands and be a well mannered little guy.  It is important to note that Beau will very likely not ever be able to be vaccinated due to his autoimmune condition.  His Furever family will have to be extra vigilant with his care and socialization due to his health issues. They will need to monitor him closely for flare ups of his condition for the rest of his life.  If you think you might be the right person to care for this sweet boy, please watch for his adoption status to change!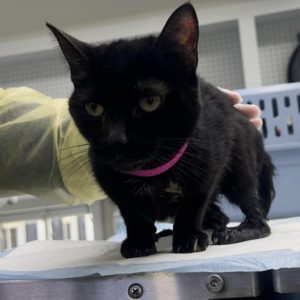 Remi
At just 4 pounds for a full grown kitty, Remi is far too underweight.  She was tested for both Feline Leukemia and FIV, and thankfully both were negative. She was treated for her dehydration and to calm her belly.  She is currently being fostered by the one who found her, and the report is that she is eating and drinking normally, no more vomiting or diarrhea and is a super sweet girl!  Once she's had a little more time to get her bearings, we will be assessing whether it is appropriate to perform a dental procedure and spay so this girl can get on with a good life!  Keep an eye on her if sweet little black cats are your thing!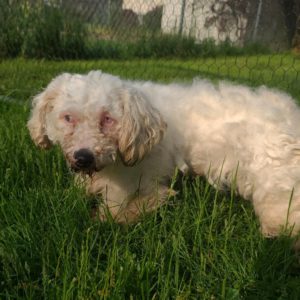 Millie
Approximately 3 years old, female mini Poodle/Maltese mix (Maltipoo), weighing about 16 pounds
Was surrendered to us by a friend who was given her by a breeder who no longer needed her.
Millie was delivered to us with a severely matted coat.  She has had one litter of puppies that we know of.
While in most other aspects Millie seemed physically fine, she was showing signs of depression and didn't eat much at first.  She perked up quite a lot when other dogs were around.
Millie's foster noticed her shaking her head more, a sign of infection.  We have begun treatment for an ear infection
This is why we say "Adopt, Don't Shop".  There are many irresponsible dog breeders out there for whom these animals are nothing more than money machines.  Millie was obviously neglected, given the state of her coat and the nature of her issues.  Since she has been in our care, she has had a complete shave down to allow her coat to come back in healthy and well cared for.  She is in a safe, loving foster home where she is slowly coming out of her shell and allowing her foster mom to pet her more.  Millie will need more testing and care for sure to sort out her hearing and vision issues, but the hope is that we will find ways to manage what needs managed, and place her in the perfect home where she is loved and maybe a little bit spoiled for the rest of her days!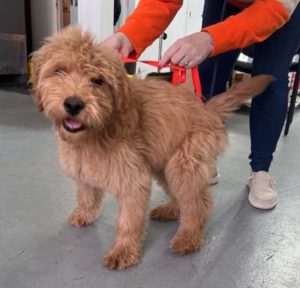 Maple
Approximately 9 months old, female Poodle, weighing about 27 pounds
Maple was an owner surrender at an animal hospital.  Maple has some serious heart issues: a congenital heart defect, a portion of her heart is enlarged, and one of her heart valves is not functioning properly.
Maple is on medications to help reduce the workload on her heart.
We hoped that if Maple improved enough over the course of the last month, that she wouldn't need surgery.  Unfortunately, this still is not clear.  We are having her evaluated by a veterinary cardiologist at the Ohio State University soon to determine our next steps in treating this lovely girl.
Maple has been doing amazingly well in her foster home. She is happy and playful and completely asymptomatic! You wouldn't know she had anything wrong at all!  Check back often for updates on this sweet girl!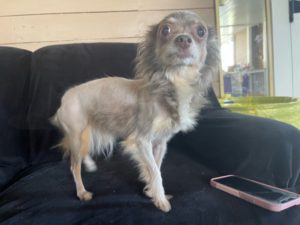 Willow (aka Mohawk)
About 12 years old, senior female long-haired Chihuahua, about 7 pounds
Willow was found as a stray back in March and turned over to us by the dog warden.  Upon examination, it was discovered that this little girl had a heart murmur and episodes of collapse/syncope.
After some testing, Willow was diagnosed with both an enlarged heart and a thickened heart valve. 
Willow is on a few medications that will help to slow the progression of her heart issues and will help to alleviate her symptoms, but this is a chronic and life long illness.
We performed a dental cleaning on Willow which did involve extracting some of her teeth.  She seems to have come through the sedation required just fine, though we will continue to monitor her over the next few weeks to ensure there are no new issues.
Willow is a snuggler! She loves to cuddle up with her foster parents, to sleep in bed with them.  Willow has continued to improve, and is ready for medically informed adoption!  This means that she will need lifelong care in the form of medication and regular veterinary appointments, at least every 6 months, more often if/when she seems to be struggling.  She is a small and elderly dog, yes, but she could have many happy years left, or she could have very limited time.  For now, she seems to be in a good, stable place in terms of her health.
We hope to find someone who will love her and make sure she always has the care she needs.  If you're up to caring for this girl for as long as she has left, please reach out!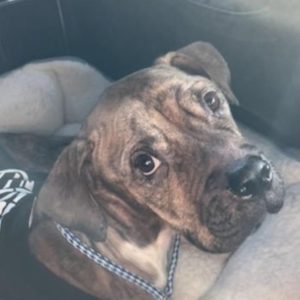 Nala
Nala was surrendered back in October to a Veterinary ER by her owner for flea infestation, advanced anemia and advanced pyoderma.
While hospitalized at the ER, Nala received a blood transfusion, injectable antibiotics and IV fluids.
The ER noticed her eating in a odd manner, and when they did an evaluation, they found a stick lodged in the roof of her mouth and an infection around the location it was stuck causing it to go through to the other side of the teeth.
This poor girl had advanced diarrhea which lead to the ER obtaining X-rays of her belly. In addition to everything else she was going through, they found something stuck in her stomach.  She was eating well and not vomiting, so they elected to wait until she was feeling better, but she may have needed surgery to remove this foreign body from her stomach. They continued to monitor her to make sure the object did not move down the GI tract and get stuck requiring surgery sooner.  She did eventually pass some pieces of plastic toys.
After approximately 3 months, Nala's skin improved, but this is an ongoing battle.
Nala's footpads became infected at one point as well, and she had trouble walking.  She was treated with antibiotics and has shown improvement.
Nala clearly came to us a mess, and we are still working to sort out some of her issues.  With all of her health concerns, her expected recovery was long, at least 2 months when she came to us.  More than 6 months later, she isn't at 100%, but her fabulous foster says she's doing so much better!  The time spent on her has transformed her little body! Keep checking back for updates on Nala's healing process.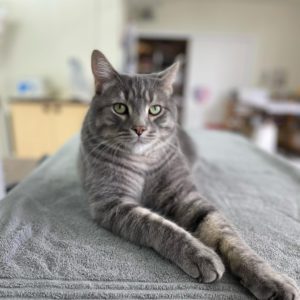 Austin Powers
Approximately 4 year old, male Domestic Shorthair cat, weighing about 18 pounds.
While we've known and treated him in the past, Austin was surrendered to the clinic this past April due to inappropriate urination.
This was likely due to a stressful situation in the home, which caused a flare up of Austin's previously diagnosed Cystitis
Austin has had his urine tested since coming back to us, and we have been working to increase his fluid consumption which helps manage his cystitis as well.
Cystitis is a chronic issue, and will require life long management and a tolerant owner who can provide a largely stress free environment.  Austin is such a big sweet loving boy.  We hope his FurEver family is ready and waiting for him!