A Little Extra Love Animals
Meet the animals currently receiving "A little Extra Love" with in our care. All animals entered our rescue due to underlying medical issues that needed special attention. We placed them in an appropriate foster home that is able to provide the medical and daily care, along with being able to transport them back and forth to medical appointments with us!
Some of the animals have life long medical issues that are more intense, or have a high financial burden that they are now a "Fur-Ever Fosters". This means that they will be with their foster and in our medical care life long. Pawsitive Hope continues to provide the daily and medical costs to care for the animal, while they get to stay in a permanent loving foster home.
Other animals are currently in a foster home receiving medical care until they are healthy enough to be adopted.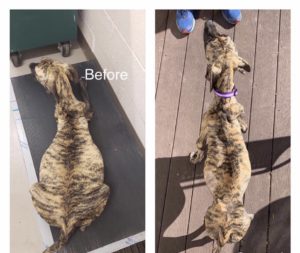 Dobbey entered our rescue when she was found as a stray. She was 6 months old and in congestive heart failure. She needed to be hospitalized under 24 hour care and needed an advanced medical workup that included x-rays, bloodwork and ultrasound of her heart. The heart failure causes her to accumulate fluid into her belly that needed to continue to be drained. A consult with the cardiologist unfortunately gave her an estimate of only living 3-4 months...... we placed her on the recommended medications, continued to drain her belly and fast forward to over a year later and she is doing wonderful. Her murmur decreased from the worst VI/VI to a II/VI.
Dobbey is a sweet, playful, loving girl that is now enjoying life. She is on multiple medications daily to help her heart continue to function well. These medications are costly ___________________________.